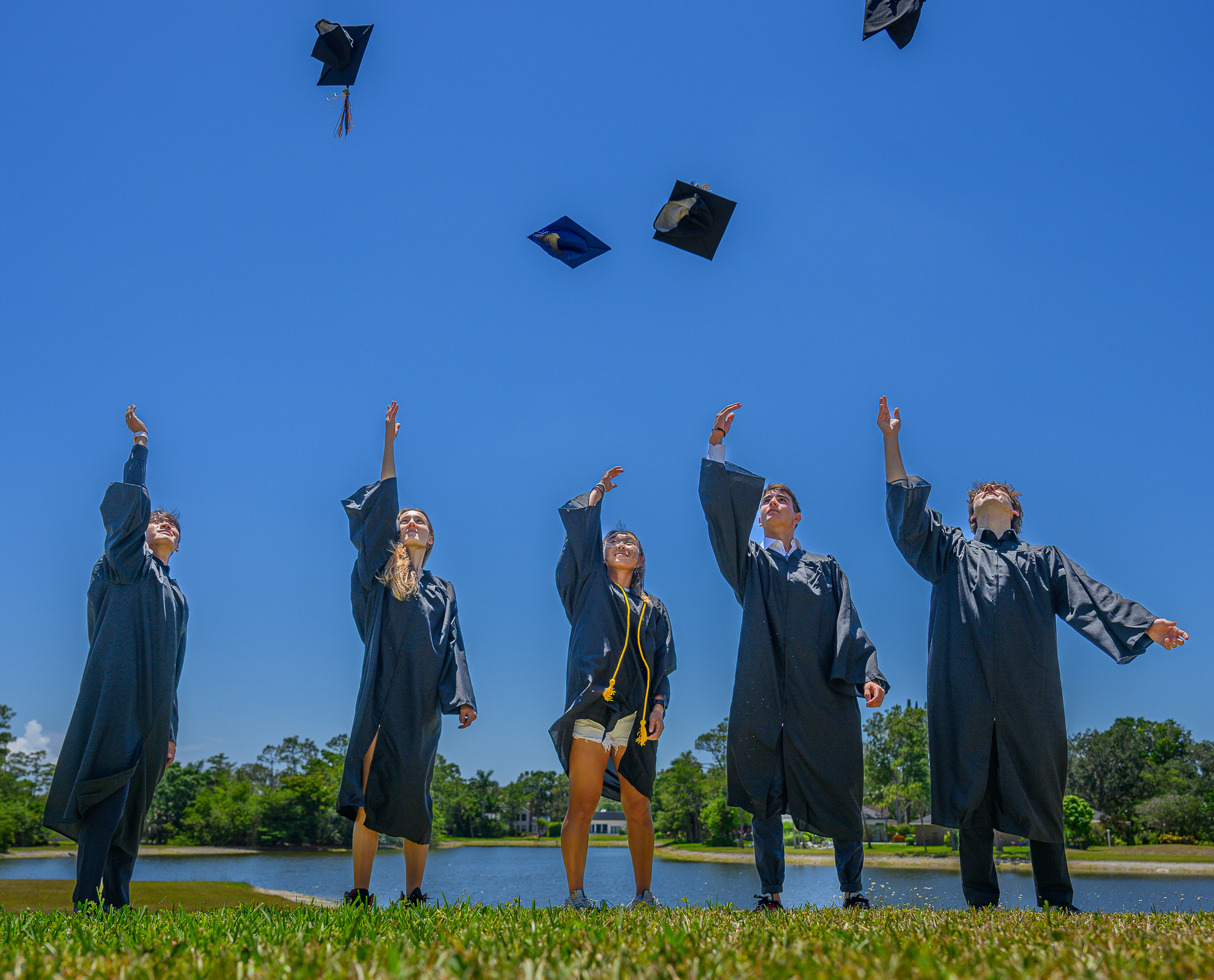 By Antonio Chavez representative speaker for the class of 2023 graduates.
«Good Afternoon,
Ladies and Gentlemen, staff members, family members, guests, and most importantly, the graduating class of 2023 – I am truly humbled and grateful to stand here before you all.
Firstly, thank you all for being here. Your presence today signifies your support for the futures of the incredible young individuals gathered here today, and it does not go unnoticed. This event is as much a celebration for you, the pillars of our lives, as it is for the graduating seniors.
To the exceptional staff at our academy and school – teachers, administrators, coaches, and support staff – we cannot express our gratitude enough. Your tireless efforts and dedication have helped shape us on and off the court and molded us into better individuals, preparing us for the world beyond these academy walls.
Let us take a moment to remember this past year—a year filled with invaluable experiences and unforgettable memories. From cheering on our spirit houses teams at field days to the late-night study sessions and everything in between, we've laughed, learned, and grown together. These shared moments have created a bond that will stand the test of time.
Now, to the heroes of the day – the graduating class of 2023. Over the past two years, I have been here, I have had the privilege of watching you transform from excellent students to accomplished seniors. We've shared classes, projects, successes, and setbacks. And through it all, I've seen tremendous growth in each of you, and I can say that you all have so much to offer to the world.
To Natalie, I think we have never been close, but any moment I needed help with anything, you were always there for me, and I know you will do amazing in whatever your next step in life is. To Diego, you are a great person, you have always been a friend to me, and your respect and discipline have taught me a lot, and I will never forget our Calc grind through the year, and I wish you the best in Mexico. To Bell, my mixed doubles partner, even though we didn't win, playing with you was one of the best experiences of my life. I will miss you; even though you could be annoying sometimes, you have taught me what discipline, effort, and respect mean, and I'm sure you will continue to grow and make everyone around you better, thanks for being there for me. To Filippo, my Italian friend, I have met a lot of Italian people, and I got to say you are my favorite. You are a wonderful human being; I still believe you should become a professional soccer player, and if you ever do, please stay in touch; your moral values and passion are what make you grow, and they will continue to help you succeed in everything you decide to do with your life. Last and least, Zhang, Wow, I have known you since I got here, and we have been very close since. From sharing the court almost every day to playing FIFA and beating you every time, I've seen you grow as an individual. The bond we've shared throughout these years has surpassed the realms of friendship. You've stood steadfastly by my side through trials, triumphs, laughter, and tears. I've always told you that I love being the oldest kid in my family, but I had never felt what it is like having a big brother, and you gave that to me. You've been a mentor, a confidant, a friend, and above all, a brother. I am very proud of you for what you have become, and I'm happy I was a part of your journey. I know you will do great in this next chapter of your life, and I wish you all the best.
Each one of you has unique gifts and abilities that have enriched our lives, and we are all the better for having known you.
And so, as we gather here today to celebrate your achievements, we also look ahead to your promising futures. Whether stepping onto a college campus, embarking on a new career, or exploring another path, remember the lessons and values you've learned here.
Remember to keep exploring, dreaming, and pushing forward as you each embark on your unique journeys. The world is your canvas, and we can't wait to see the masterpiece you create.
In conclusion, as I stand here as a junior, I am filled with pride and admiration. Your accomplishments inspire me, and I am excited about what lies ahead for each of you. May you carry the lessons, friendships, and memories from our academy as you step into the next chapter of your lives.
Congratulations, Class of 2023! Best wishes as you set forth on your next adventure. Your journey is just beginning; we can't wait to see where it takes you.
By Antonio Chavez ES Student-athlete class representative
Thank you.